Sunday June 26, 2005
I'm back! From Kuching that is….for those of you who haven't been following my blog.
It has been a fun, hectic and tiring week filled with activities but I loved every eating, drinking, laughing minute of it! I think the amount of alcohol I took this week can last me at least 3 months without, here in KL.
It was great meeting up old friends, catching up, hanging out with my girls…..and their boys…
Kuching has not changed much, except for the increase in traffic, the addition of another flyover (hahaha….2 only in the whole city *correction* maybe 3, I guess Rom would know better
), lots of novelty 'pish-posh' cafes now open….very tastely ones at that, it's still the calm, medium-paced city that has cultivated nice, good looking people, like me.
Driving pass my school, the club where I used to swim, places I've been a million times before, everything looked so familiar, yet unfamiliar at the same time. Got a bit nostalgic at times thinking of the times gone by, but all in all it's been a good trip, not because of the place, but because of the great company. Today's blog will be an illustrated summary of my week in Kuching.
Saturday (18/6/2005)
Arrived in Kuching about 5 p.m. Had dinner with Melee and family then we headed of to Soho, one of the two hot and happening club/pub in Kuching.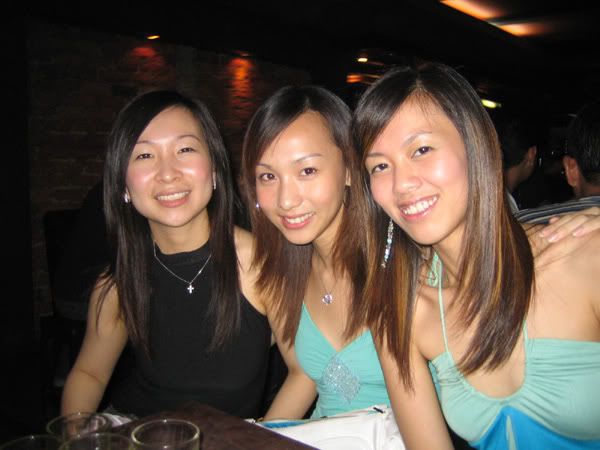 Melee, Me & Angie @ Soho, best friends for life!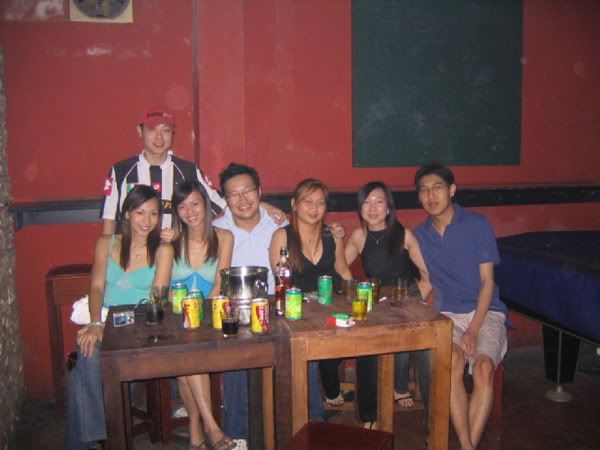 The gang @ Soho from left: Me, Brian, Angie, 'Man-I-Look-Good' Gary, Carrie, Melee and Adrian. First time I had JD with Green Tea and it tasted quite good!
Sunday (19/6/2005)
I don't really remember what I did the earlier part of the day, but I remember going to church, my old church, with Melee and family and singing hymns which reminded Melee and I of the church gatherings we used to have with the Young Christian Student club back in highschool. Anyways, we took it easy that night, went to this really nice cafe called bing!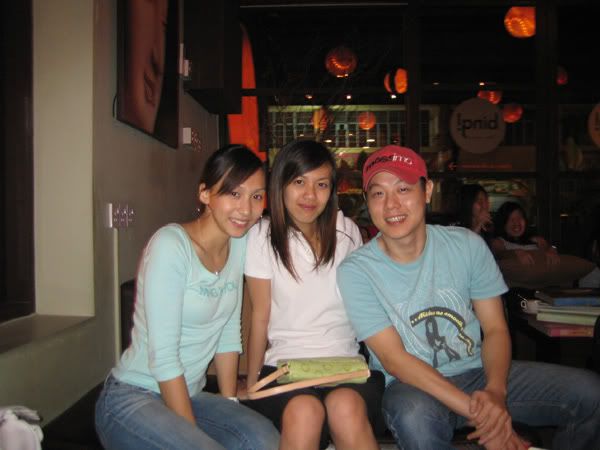 With Angie and her boy inside bing! (the actual name is with the exclaimation mark). Iced Chocolate is good..
Monday (20/6/2005)
I don't remember what we did most parts of the day. It was mostly just going for meals after mealsn after meals. That night, we went to two places, first we met up 2 of our old high school friends, Lana and Elizabeth at this cafe named Zenzio, which had a Mexican kinda feel to the place. Later that night, went to Luconia, another nice, tasteful pub with very nice interiors.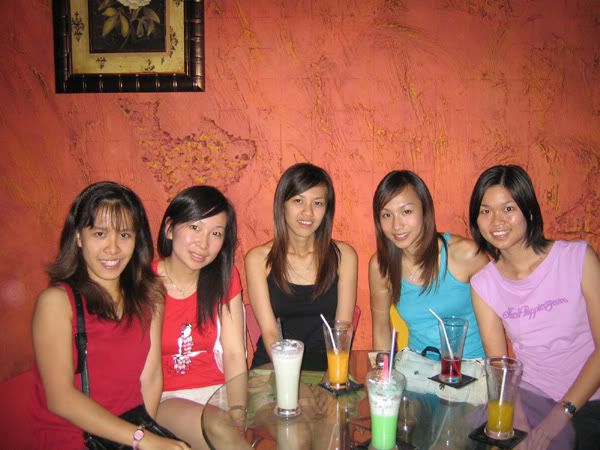 Lana, Melee, Angie, Me and Beth sipping drinks from tall tall glasses.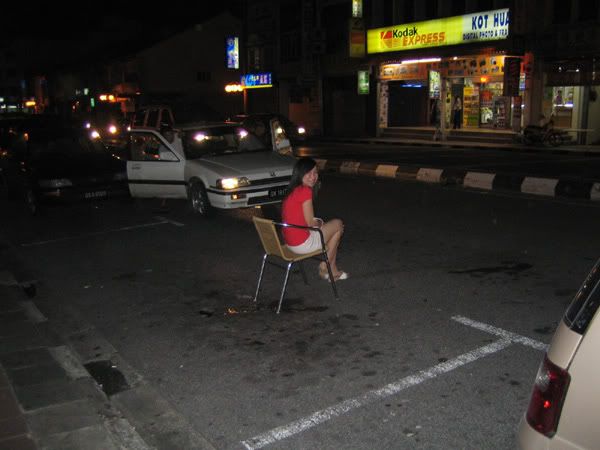 The way to reserve parking in this humble town of ours!! Hehehe…too cute! Way to go Melee!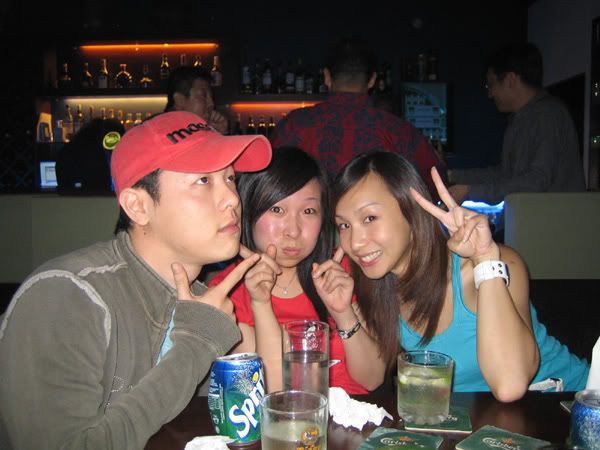 Being Silly @ Luconia
With HOT chic Amy in Luconia
Tuesday (21/6/2005)
It was meet and greet day today. Met up with an old high school friend Aida in the day at this really nice cafe/restaurant called Tom's. They have really delicious cakes! Then drop by to say hi to a few relatives  before going off to dinner with Melee, Angie and Yalee (Melee's younger sister) at this house-turned-into restaurant called Magenta. It's opened by one of our mutual acquaintance who is also the chef there. Had a very good Seafood Linguine, a must try. Later that night, went to this place in Travillion called the Crib for drinks with my old swimming friends.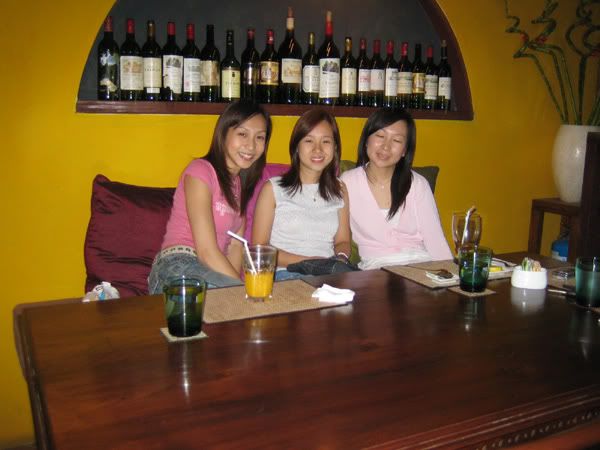 With Aida, in the middle, and Melee at Tom's
Angie, Yalee 'The Princess' and I at Magenta.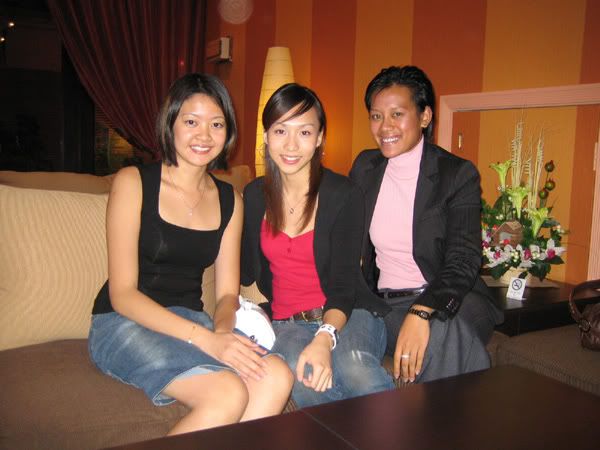 At the Crib with my old swimming buddies, Emily and Jacquelyn, who is probably flying off with SIA at this very moment!
Wednesday (22/6/2005)
Went for dinner with an old family friend Aunty Juliet and her partner Uncle Gabriel at this place called The Junk. The food portion there was humungous and quite good too! The most memorable event of the day would have to be ladies night at Grappa, the other hot and happening club in Kuching at the moment. We got there early, started with the free flow of Vodka Lime and got more than enough by the end of the night. Met up with quite a few friends whom I haven't seen in a while, so it was good. Got very tipsy that night and witnessed a semi-fight, I was so buzzed by the end of the night I SMSed a few people about the fight, unknowingly, until I saw their reply the next morning.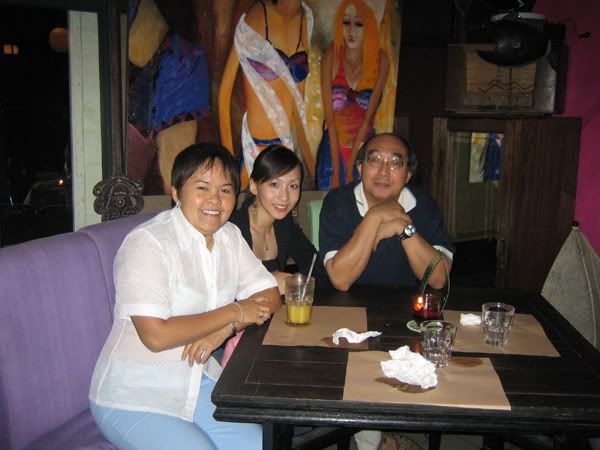 With Aunty Juliet and Uncle Gabriel at The Junk.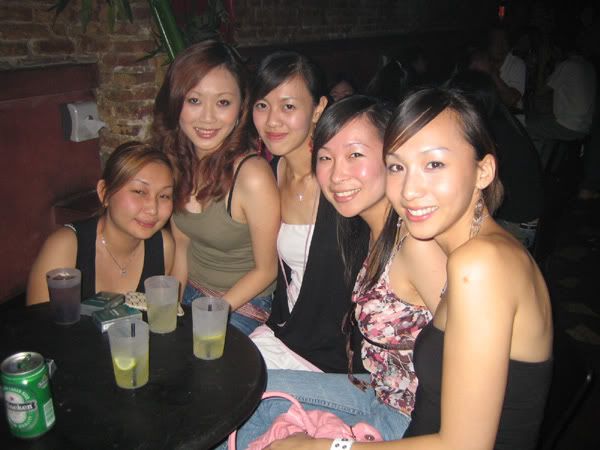 The chics all dressed up for ladies night @ Grappa!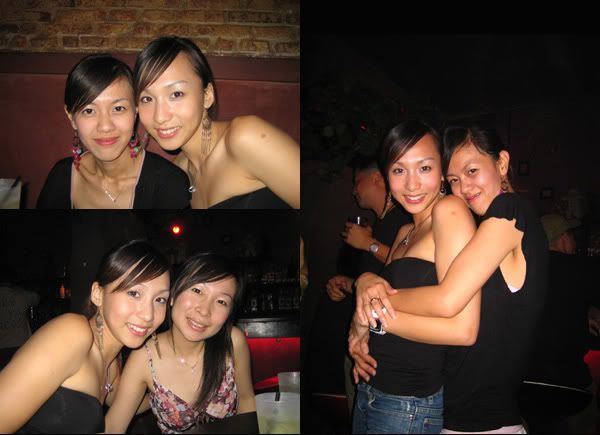 With Melee and Angie, 2 of my dearest friends from high school. Miss You 2 already!!

People I haven't seen in a while- Lionel on the left, who was back from  Kansas
for Summer break, and Mellisa, on the right who just started working in Kuching.
Thursday (23/6/2005)
We had a slow start to the day for obvious reasons. Didn't take many pictures either today. We met up with some seniors from high school for a drink that night at bing! That was all I remember.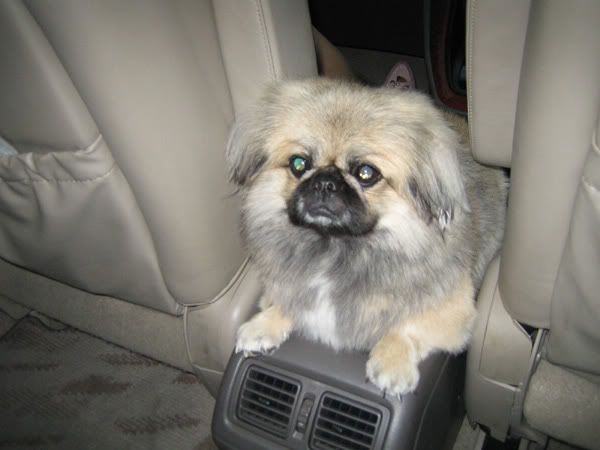 Here's a picture of Stitch, Melee's Pekingnese, enjoying the car ride.
Friday (24/6/2005)
Final day in Kuching. Went to eat 'Ang Tau Peng' (Iced Red Bean, directly translated) at the stalls in front of  San Xiao primary school in the afternoon. Then later that night, went to this pub/club, Rainforest. Didn't drink a lot coz I didn't want to be groggy the next day when i leave. But met up with quite a few friends there so again…caught up with the latest news and gossip and went back home by 1 a.m.
Enjoying Ang Tao Peng. Look at all the
little packets of junk food behind us, those were what we used to buy with our 10 cents allowance to munch munch while waiting for our parents to pick us up.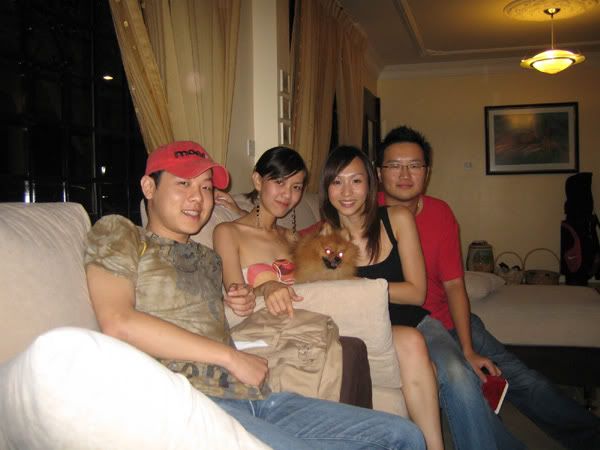 Brian, Angie, QQ, Me and 'Man-I-Look-Good' Gary @ Angie's before departing for Rainforest.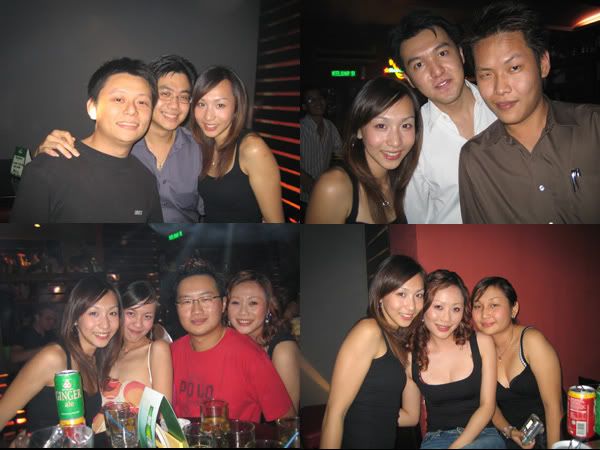 With all the old school friends & newly made friends, etc. at Rainforest.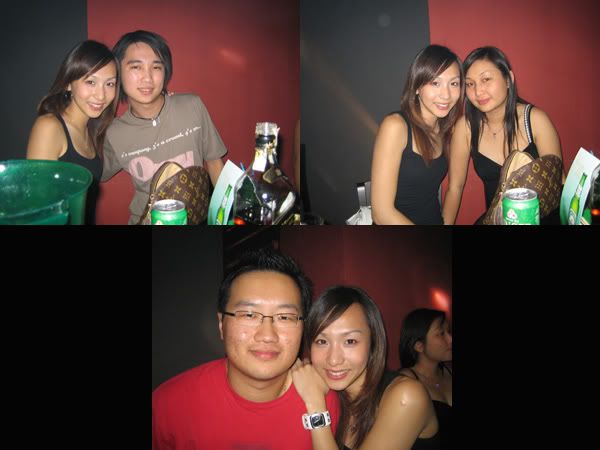 With Melee's brother, Sie Hai -top left, Melee's cousin, Carrie – top right and Melee's other cousin, 'Man-I-Look-Good' (I have to write this in repeat to let him know how annoying he is by saying it everytime he looks at his own pictures) Gary -bottom. Melee's extended family minus Melee, she decided to stay home that night.
Saturday (25/6/2005)
Spent most of the day packing and collecting food from various places to bring back to KL. Reached back home about 10-ish at night and was pooped.
Anyways…..I'm equally as pooped now. Leaving for Singapore tomorrow for a photo shoot (non-commercial kind) and will only be back on Wednesday. Work starts on Friday….gosh…..feels like my schedule for this short break is even more hectic than my work schedule! hehehe…..Hope you guys enjoyed the little walk through my life for a week in Kuching.