Thursday March 31, 2005
As usual, I had my whole entry ready to submit and the whole thing just disappeared. Anyways, today's entry is going to be about work again….but this time hopefully it'll be a lil' bit more interesting because it has been an interesting week for me at work.
Had a couple of 'first times' this week. Covered my first ever press conference and concert on Tuesday for the band Simple Plan!!
And tonight, I rolled tape for the first time in the Outside Broadcast (OB) Van for our live show. It was pretty nerve-wrecking…and squeezy, the van used to be an ice-cream van converted into a mini studio. There were 5 of us in the van and no space left to move. In addition, I had to share the limited space I had with a big…..and I mean BIG Audio guy. But everything on my part went well so I'm glad.
Ok, enough talk. Picture time. I won't let Simple Plan go without taking pictures with them, would I?
The guys, at the Press Conference in KL Hilton
VJ Utt from MTV Asia was the MC for the PC and the concert. Didn't get a chance to talk to him though…
Pierre, Jeff, Belinda, Chuck, David and Sebastien…Me and the guys!! We were given 10 mins 1-on-1 with them and my job was to get Station I.D.s from them, cueing them on what to say when. Station I.D.s are like, for example, Hi, we're Simple Plan and you're tuned in to 8TV…that kinda thing. We got them to do one in French, their native language, which was cool.
Later that night at the concert. With our Media Pass, we got to access the space in between the audience and the stage. Very cool…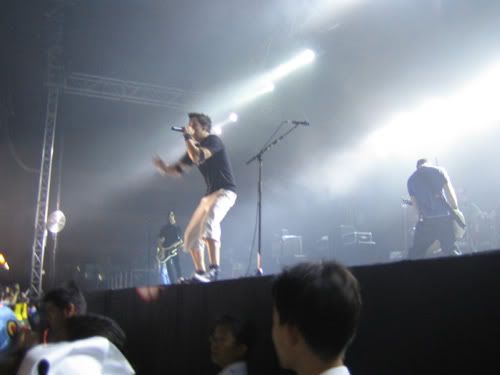 Simple Plan, doing their thing. The majority of the audience were 14-15 year old kids.
Ok, I'm sleepy now and I do not wish to retype this again so I'll cross my fingers and press submit and hope something, actually nothing, happens.