Tuesday August 2, 2005
So last week was my final week at 8TV. Everything happened so quickly I don't know where to start. It's only been 2 days since my last day on Sunday and I'm already starting to miss all my colleagues and friends, don't miss the work though…
hehehe….Not that I contributed that much anyways….
So anyways, last Wednesday was Eleana's (our editor) birthday, so Adam, Marion and I dropped by Zouk after the Quickie for Mambo night and free champagne!
Everything was quite a blur that night, Adam and Marion disappeared after a while, hanging out with their respective friends, so I was left to hang out with my new found friends, The Lab hairstylists, Rico and Xu. I got a bit tipsy by the end of the night, thank God Adam was driving me, I wouldn't have been able to drive otherwise. It was a good fun night, an eye-opener for me because I didn't realise that sooooo many people go clubbing on a Wednesday night!!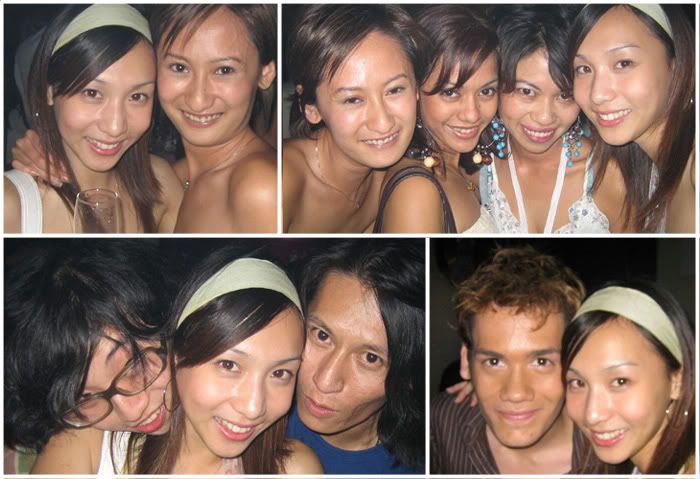 Clockwise from top left: Eleana (the birthday girl) and I, Eleana, Edleen, Eka and I, With Adam- who looked a bit toasted from the makeup done by the horrible TV3 makeup artist, and with Xu(left) and Rico(right) my companions for the night.
I tried to take pictures with almost everyone at work for 2 consecutive days, Thursday and Friday. Here, I present to you, the many faces behind 8TV.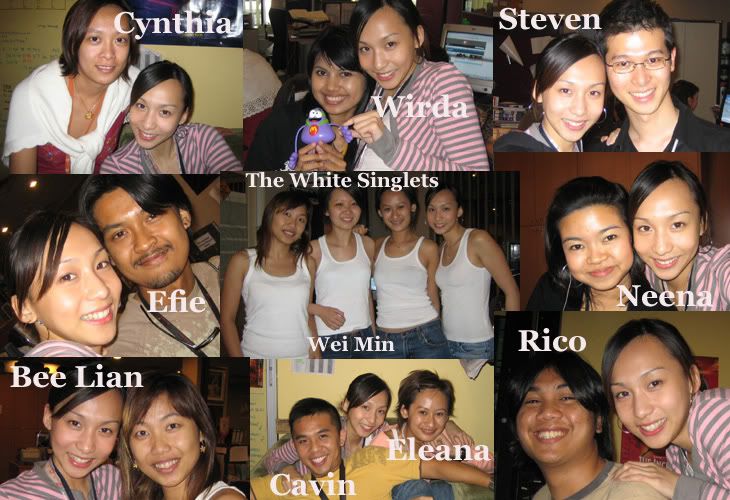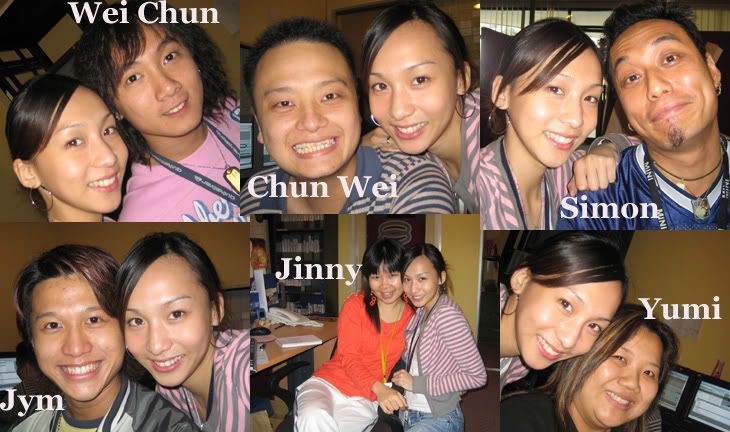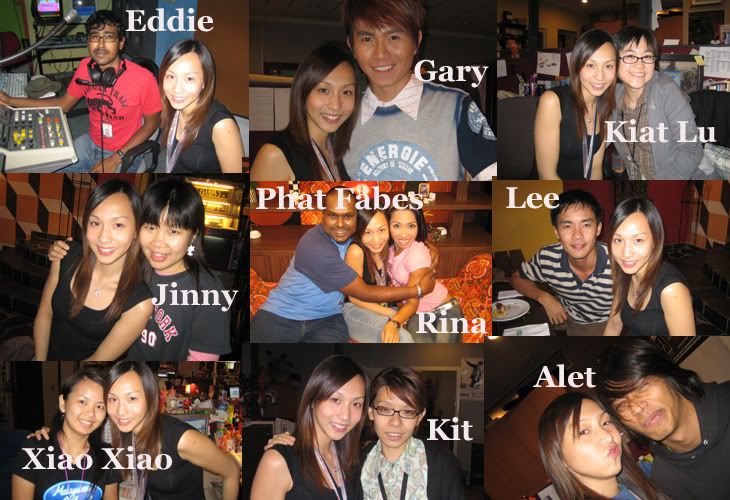 So that was Thursday and Friday.
On Saturday, I went to the Cotton Club on Chow Kit Rd, it's a Jazzrestaurant, very nice. Went with my cousin for dinner. They have a live jazz band performing there every night and the girl singer is not even 20 years old, yet she has a great voice, very captivating. The place is really nice too, food is quite good, very nice decor, not too crowded….I'd recommend it to those who love Jazz. Although I must say it attracts an older crowd, we were like the youngest bunch there.
Later that night, my cousin and I and a few of his friends visiting from Miri went to Velvet. It was my first time there and I really like it. Bumped into quite a few people there, had a really great time and can't wait to go clubbing again!! hehe….I'm turning into a clubbing freak!
Went back to work Sunday night, said my goodbyes to the few people working that night and that was it! I'm officially a bum! And it doesn't help that the Astro people haven't called me back about when this whole VJ thing is starting and all that. Quite frustrating because my life is currently on hold, I can't plan to go for a vacation, I can't go look for other permanent work because I don't know when I'm needed and what the schedule is or will be like.
So I guess it is good, in a way, that Joe surprised me with a visit at my doorstep this morning (Tuesday). Looking all skinny. He's back for good, at this point in time. Not going to take up the job offer in Sydney. He'll be back in Sydney in a few weeks for his graduation, which I'm not sure if I'll be able to attend because of the vague nature of this VJ thing.
*Frus*  At least I have someone to bum with now. I'm so glad he's back, now that he is. Selfishly, in the sense that now, I have a companion, and I wouldn't be bored if I have nothing to do for the next month or so and also, he can drive me to go clubbing!! hahaha….What a useless girlfriend, right? 
Ok, so that was 'the week that was' for me. Hope you guys had an even more eventful week. Take care and till the next post, keep on leaving your comments! I love to hear what you guys have to say about what I write here. Although, it is mostly all about me…kekeke…. BYe!